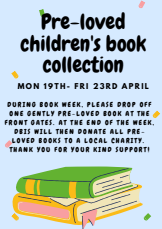 Dear Families,
As part of "Book Week" this year, the sustainability/eco committee has been looking at ways to promote recycling, reusing and reducing.  Due to COVID19 restrictions we are unable to do a planned book swap this year.  Instead we will be collecting gently read/ near new condition books, families no longer read, and donating them to a local charity, who in turn donates them to local primary schools to enhance their English Language Book collections.
How to donate:
A donation box will be located at the Entrance of the Main Campus and Early Years Campus.  Please add your donations to these boxes.  Donations can be made during "Book Week", 19th – 23rd April, 2021
We do have a certain criteria for donations which includes;
– picture books, early readers and chapter books
– encyclopedias, dictionaries and atlases
– English language
– gently read / near new condition
– suitable for ages 3-10
We thank you in advance for your anticipated support.
Kind Regards
DBIS ECO/Sustainability committee