Dear Parents,
Update for Primary learning from Monday 22nd February
As you will be aware from Stuart Bridge's communication earlier this week, whilst restrictions remain, we are delighted to be able to welcome our Primary children back into school for increased face to face learning after Chinese New Year. Over the last two days, we have been planning the children's return with the EDB and the School Leadership Team, taking into account your feedback from the parent survey in January and the extremely valuable contributions of the Parent Focus Group on Tuesday. Your feedback has been so gratefully received and has enriched the discussions about how we can best support the children. 
I am very pleased to let you know that the EDB have now given approval for the return of one third of our capacity at the main campus which means we can welcome up to 4 year groups per session into school each day from EY1 – Year 6. In order to ensure the maximum number of children on campus, as well as equitability for all learners, I am very pleased to let you know that your child will attend school at least 3 times per week (and sometimes 4) for the morning session. We have looked at various models for the distribution of these sessions and taken into consideration children traveling to and from Tung Chung, families who have siblings at the Early Years campus, and the need for an element of consistency for you and the children. As a result, it has been decided that we will run a fixed timetable from Monday – Wednesday each week with Thursday and Friday operating on a 3-week timetable, as per below: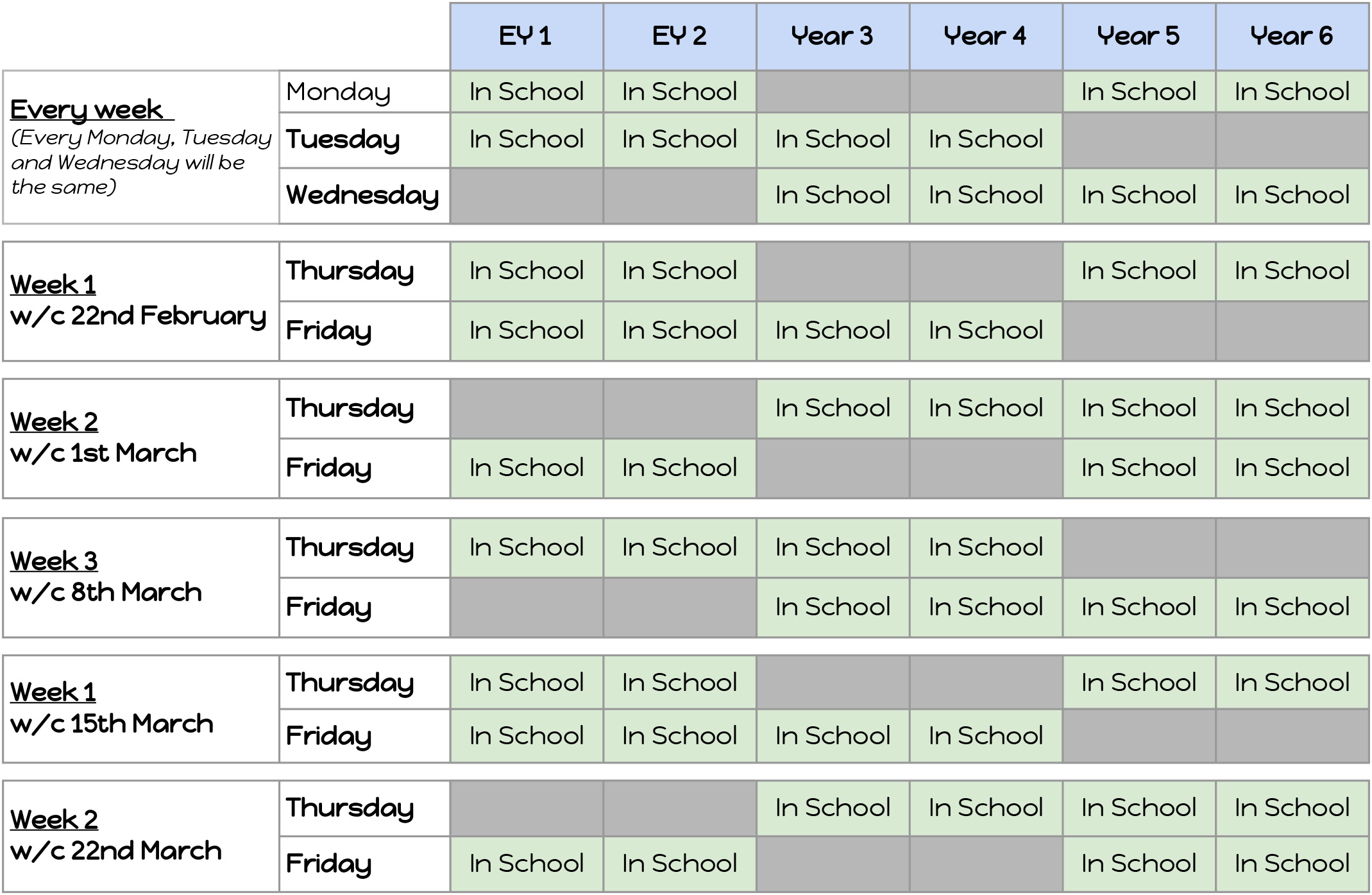 For year group specific timetables, please see the attached PDFs below:
Primary Overview.    Year 3.        Year 4.      Year 5.       Year 6.
Please note your child needs to arrive at school ready for an 8:00am start. In order to maximise social distancing at the end of the morning, EY1 & 2 children will be dismissed to an adult between 11:25 – 11:30 with Year 3 to 6 leaving between 11:35 – 11:40. 
Entering and Exiting the Early Years Campus
We have organised our timetable to provide the most amount of time possible for the children in school across the 6 year groups. We are also required by the EDB to ensure that social distancing measures are adhered to. We therefore kindly ask that you leave the campus as soon as you have dropped your child at school and as soon as you pick them up at the end of their session. The playground will not be available for children to play on at the end of their session as we have a very quick turn around between our children leaving and the Secondary students arriving in which we must not exceed capacity on campus and need to ensure all communal areas are thoroughly cleaned. 
Year 6 children will be asked to leave the campus via the back gate and stairs which lead onto Seabee Lane.  All other children will leave from the front of school.
I kindly ask that you support us in ensuring the school can maintain our start and finish times by adhering to these guidelines and avoiding crowds. All members of our community who enter the campus must have their temperature checked, wear a mask and maintain social distancing wherever possible. 
Specialist Lessons
Specialist lessons at DBIS form an important part of the children's learning and development. Following feedback from the parent survey and focus groups, we will continue to operate your child's normal class timetable, therefore any specialist lessons that fall during the mornings your child is in school will be taught face to face. Online specialist lessons will remain when your child is not in school.
Online Home Learning
Following your positive feedback about maintaining continuity of learning through a fixed daily timetable, this will remain unchanged when your child is accessing the online home learning programme and not coming into school after Chinese New Year.
Emergency Childcare
With the Nursery and Reception children now returning to school, we need to maximise our capacity for as many children to be learning in school. The EDB has also reminded schools that we must comply strictly with their guidelines in terms of when emergency childcare can be offered which states: " Schools and boarding sections (if applicable) should remain open to take care of those students who have to go back to schools or boarding sections (if applicable) because of the lack of carers at home…" we therefore can only provide childcare on the basis that there is no adult, in any capacity, to care for children at home. If you wish to discuss emergency childcare arrangements, please contact me directly to discuss whether your circumstances qualify for emergency childcare in accordance with the EDB guidelines. 
Class Timetables and Information
Further information relating to your child's class timetable and information pertinent to their year group will be communicated by Year Group Leaders via the Parent Hub. Please do keep an eye on the hub for updates throughout the term and if you do not already receive the Sunday 'round up' email reminding you of all the bulletins that have been posted, please do contact our helpdesk at [email protected] to ensure you are kept up to date. A copy of this letter will also be posted on the Hub. 
The entire Primary Team is very much looking forward to welcoming all the children back into school much more regularly after the break. Until that time, I wish you all a very happy Chinese New Year. 
恭喜发财!
Gong Xi Fa Cai!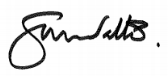 Susan Walter
Head of Primary