Dear Parents
I am delighted to let you know that your child's report for Term 1 is now available to access in the Parent Portal. This can be found by logging into the Parent Portal via the hub and selecting the 'Student Reports' tab. Please see the images below to help guide you.
Step 1: Go to the parent hub, select the parent information tab and then under 'useful links' select 'parent portal'.

Step 2: Log into the Parent Portal using your username and password and then select 'Student School Reports'. You will then be able to select your child's name and their term 1 report.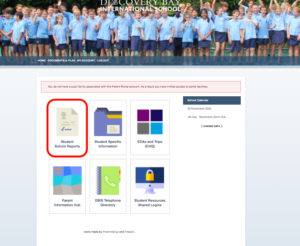 As the children are not in school and in the interests of being mindful citizens, we have not printed copies of the reports for you. If you would like a printed copy you can do this by selecting and printing the report from your own computer or make a request to your child's class teacher to print the report which can then be put into your child's activity pack for collection next Tuesday.
We have been delighted with the overall progress of the children throughout Term 1 and have been so impressed with both their resilience and adaptability throughout the moves between face to face and online learning. Please enjoy celebrating your child's achievements with them and talk about their next steps in their learning journey. You will have the opportunity to discuss your child's report and their overall progress next week at the Parent Teacher Conferences, details for which you will find on the Hub in the parent bulletins for your child's year group.
If you are having any difficulties accessing your child's report, please contact us at [email protected]
With best wishes
Hannah Cole
Head of Early Years