Dear Nursery Parents
I am delighted to let you know that your child's end of year report will be available to access in the Parent Portal tomorrow (Thursday 17th June) by 4pm. This can be found by logging into the Parent Portal via the hub and selecting the 'Student Reports' tab. Please see the images below to help guide you.
Step 1: Go to the parent hub, select the parent information tab and then under 'useful links' select 'Parent Portal'.

Step 2: Log into the Parent Portal using your username and password and then select 'Student School Reports'. You will then be able to select your child's name and their report.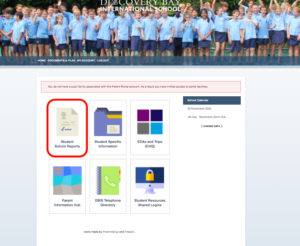 In the interests of being mindful citizens, we have not printed copies of the reports for you. If you would like a printed copy you can do this by selecting and printing the report from your own computer or make a request to your child's class teacher to print the report which can then be handed to you.
If you are having any difficulties accessing your child's report, please contact us at [email protected] .
Your child will also receive an envelope at the end of school on Thursday which contains a copy of their class list, teacher and education assistant for Reception as well as some information to help prepare you for the year ahead. The envelope also contains information about a Summer transition activity for your child to complete in preparation for their first day in August.
Finally I would like to inform you that Nursery children will finish school at 11:50am on Friday 25th June. They will not have lunch at school on that day, however we will provide extra snacks for those who are hungry.
Please do not hesitate to get in touch should you have any questions.
With best wishes
Hannah Cole
Head of Early Years