Dear Parents,
Primary Maths Parent Workshop 
Thank you to all our parents who joined us for the Maths workshop led by our Primary Maths Leader, Catriona Debnam-Sharp.
I am pleased to be able to share with you a link
HERE
to the video of the entire workshop. I have also attached a link
HERE
of the presentation that Catriona went through for your reference.
Thank you again for your continued interest and support in all we do here at school.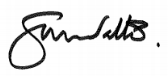 Susan Walter, Head of Primary