Dear Parents,
Primary Maths Parent Workshop  – Thursday 24th September 2020
We would be delighted if you could come and join us on Thursday 24th September at 5:30 pm – 6:30 pm to learn all about our approach to the Teaching and Learning of Mathematics in Years 3 to 6. The link to our online session can be found HERE.
Catriona Debnam-Sharp, our Maths Curriculum Leader, will share information and resources to help build understanding of our approach to teaching Mathematics, whilst providing ways to support your child in their maths learning outside of school.
To express your interest in attending the meeting, please complete this form . If you have any questions you would specifically like answers to, please email them to me or to Catriona Debnam-Sharp, the Primary Maths Leader who will be running this meeting. Her email address is [email protected]
We look forward to seeing you there.
Kind regards,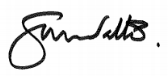 Susan Walter
Head of Primary