Dear Primary Parents,
I hope you have had a lovely Christmas break with your families. Whilst this may not have been the holiday you had originally planned, I hope you have had time to rest, relax and enjoy the beautiful weather Hong Kong has been offering us all.
I know that you will share our disappointment at the news of the extended school closure. We were desperately hoping to welcome the children back into school, however for now, we will look forward to continuing their learning journey with them virtually. At this stage, the closure has been extended until Sunday 10th January, therefore we are expecting and preparing to welcome the children back on Monday 11th January. Should we receive further communication from the Education Bureau (EdB), we will communicate it to you immediately.
Our teaching teams have been working hard throughout the break to ensure your child's online learning programme is ready to access from Monday 4th January. Each year group have now shared welcome letters with you on the parent hub here:
https://hub.dbis.edu.hk/parent-bulletin/
. These bulletins contain important information about your child's learning for Term 2 as well as information regarding their online learning from Monday 4th January. As per the arrangements for last term, all your child's learning will be accessible via their Google classroom and Seesaw. Please continue to keep an eye on the parent hub for bulletins which are updated regularly and summarised in the weekly email every Sunday as this is our main source of communication and information for you as parents.
Whilst we are disappointed to be starting Term 2 in an online environment, we know from the children's achievements in Term 1 that they are capable of making great progress when they engage with their online home learning programme. Our teaching team will continue to reflect upon and evaluate the programme we are offering whilst providing the best possible opportunities for the children.
I would like to remind you of the significant value we place on positive relationships with you as parents. We understand and appreciate the challenges of further school closure places on families, as well as the continued anxieties generated by the situation across the world with regards to COVID-19. As a school, we remain here to support all our families in any way that we are able to, therefore I ask you please reach out to myself, the Primary Years Leadership Team or your child's class teacher if you have any questions, concerns or suggestions.
On behalf of all the staff in the Primary phase, I wish you all a very prosperous 2021 and hope the new year brings new hope and resolve to the pandemic. Whether your children are in school or online, we remain committed to supporting them in achieving their full potential and look forward to seeing the children again from Monday 4th January.
Kindest regards,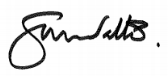 Susan Walter
Head of Primary