Dear Parents
We have been running our electronic sign-in system, InVentry, for staff for several months and our sixth form students have been signing in and out of the Sixth Form campus with their students cards since they have returned to school.
We will be implementing visitor sign-in for the system from Tuesday 27 October.
All visitors will be required to sign in electronically at the guard hut at the Main Campus and Reception at the Sixth Form Campus using the InVentry terminal.  Sign in at the Early Years campus will remain the same.
Our security guard or receptionist will guide you on how to sign in.  However, it is a straightforward process and requires you to enter your name and whom you are visiting into the console and have a temporary photograph taken which will be printed on a visitors badge.  Visitors will be required to wear the badge along with the normal visitor lanyard whilst on campus.  If there is a fire evacuation, visitors should to go to the goal mouth on the pitch near the carpark to be accounted for.
The visitor's badge has a barcode which we ask you use to sign out with when you leave the main gate.  Please use the infrared reader at the bottom of the card reader at the guard hut to sign out.  You can also sign out manually at the console.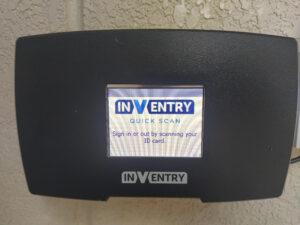 Parents who submitted photos last year for family cards will be able to collect them after half-term.  Unfortunately not all photos provided by parents last year were suitable – a passport style photo is required on a white background.
We will email parents whose cards are ready after half-term and we will also contact those parents who still need to provide alternative photos.  If you are new to the school and would like a set of family cards for up to three family members please complete the following form:
InVentry Card Registration Form
Many thanks.
Kind regards
Sheila Stamp
Director of IT and Communications