Dear Parents,
I would like to start by welcoming back our returning families & giving a very warm welcome to our new families in Sixth Form.  I hope you have all had a wonderful summer & that students are well rested & ready for the exciting but challenging year ahead!  For those of you who do not know me I would like to introduce myself: I am Emma Cerrone and this is my fourth year at DBIS as a Media Studies teacher and Head of Year.  I am originally from Birmingham and am a proud 'Brummie' and Birmingham City fan! I attended the University of Wales, Aberystwyth where I studied Film & Television Studies for my undergraduate degree and Audience Research Studies for my Masters degree.  I completed my teacher training in 2009 through the GTP programme and worked in Birmingham schools as a Media Studies teacher, Head of Subject and finally Head of Faculty until I moved to Hong Kong.  Throughout my teaching career I have worked exclusively as a form tutor to Year 12 & 13 students, which is one of the many reasons that Head of Sixth Form has always been my dream role within a school.  I am aware of the significance of this period of education for both students and parents and I am excited to help our Sixth Form students flourish in all aspects of their education, as well as develop the Sixth Form at DBIS. 
I am delighted to say that we retain our terrific tutor team within Sixth Form! Mrs Murphy, Ms Best and Mr Koenig have a wealth of knowledge and experience in supporting our Sixth Form students and they continue to support our mixed tutor groups.  The most significant changes in the Sixth Form team, apart from the departure of Mr Sama, who will be greatly missed, is that we now have Mrs King as a co-tutor with Ms Best as well as Mr Koenig coming into the role of Careers and Guidance Counsellor and he and I will work together to support students with their future choices.  Mrs King joins us from the Inclusion department at DBIS where she has worked for the past five years.  She also has a background of 20 years of teaching in History and English and a career as an Officer in the Royal Air Force.  Our Sixth Form students will benefit hugely from her knowledge and expertise.  Two other key figures in the daily running of Sixth Form are Geraldine Sebendal, our Sixth Form receptionist and Ellen, our Sixth Form Amah.  
As we start the new academic year online it is useful for parents to be reminded of the expectations we have for online learning for all students:
All students must follow their timetable as normal, unless otherwise notified.  The only significant changes are the extended tutor time on Thursday (13th August) to support students starting the academic year online and a year group assembly planned for tutor time on Friday (14th August) which students will find information about on the tutor group Google Classrooms.

For online lessons and activities students should be sensibly dressed (no pyjamas/beach wear please), logged in on time for the start of the lesson and ready to learn.  

For all online lessons and activities students should be in an appropriate space to learn with key equipment available.  For example, being sat at a desk or a table and ensuring they have paper/exercise books/folders, pens, etc ready.

For all online lessons and activities students should start their sessions with their cameras on but their microphones off.  

Our experiences last year taught us a very valuable lesson regarding examinations, and although I hope that this does not happen again, it is important that we are mindful of this.  All learning activities are obviously important but in the case of Year 12 and 13 students there will be key tasks, pieces of work and also assessments which we may have to be used for exam evidence in the case that exams are cancelled.  It is vital that students are engaging in all lessons and producing work to the best of their ability at all times to account for this.

All Google Classrooms for subjects and tutor groups have already been set up and students have already been added to these, once they log into their Google account they can see this through their Google Classroom link.  The link for Google Meets for online lessons are also available on Google Classroom for all subjects within the banner at the top of the page.  

All lessons for students have also been loaded into their Google Calendar and within these calendar events there are links to the Google Classroom for that subject.  This will also help students to manage the structure of their day.  

STUDY PERIODS – We want this period of online learning to be as similar to in-school learning as possible and therefore it is important that students use their study periods appropriately.  These are periods in which students can complete home learning tasks, coursework activities or carry out further reading or independent study for their subjects.  This resource provides students with some independent study task ideas but students can also ask their subject teachers for guidance on this too.
ATTENDANCE – If a student is going to be absent due to illness we ask that parents notify us so that we can record this correctly on our system.  There is a jotform that can be completed by parents here.  

If the jotform cannot be accessed then please email our Sixth Form receptionist, Geraldine Sebendal (

[email protected]

) or call her directly (3962 1500) to inform her of your son/daughters absence.  This system applies to both online and in-school learning.  

COMMUNICATION – All subject information and assignments for students will be communicated through their subject Google Classroom by their subject teachers.  If students need to ask a question about their work they can  use the comments facility on Google Classroom.  All other queries or questions can be directed to tutors via email in the first instance.  
For your reference I also include here key dates for Sixth Form students and parents for Term 1.  Due to the current situation it is important to note that there may be changes to these dates and we will update you as soon as we can regarding any changes.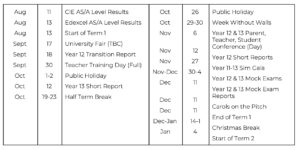 Linked here is the Sixth Form handbook which includes all email addresses for Sixth Form staff as well other information regarding Sixth Form.
All of our students in Sixth Form have recently received examination results or will shortly receive them and I am aware that this is always a stressful time for both students and parents.  I suspect that this year it is likely to be even more stressful due to recent circumstances.  There is still some uncertainty with regards to examination results, which has been explained further in a specific email sent to all parents in Sixth Form.  We will do all we can to support students receiving examination results and to update you all with relevant information as soon as it is available to us.
Finally, I would like to say that I hope to be able to meet with all parents and students in person very soon to welcome you physically to DBIS Sixth Form and our North Plaza Campus.
If you have any questions, queries or concerns about this information please email me at any point to ask these or to arrange a virtual meeting or phone call.
Yours Sincerely,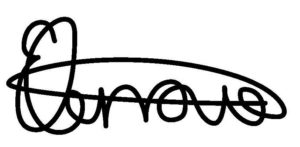 Emma Cerrone